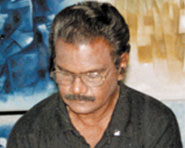 1943
Born in Gudiyattam, Tamil Nadu.
1960
Diploma in Fine Arts from Government School of Arts and Crafts, Chennai.
1966
Becomes a life member of Cholamandal Artists' Village, Chennai; Exhibited at the National Art exhibition, New Delhi. (Also in `85); Three man show in Chennai; Award, Progressive Painters' Association, Chennai; One man show in Chennai.
1970
Workshop at Gandhigramam, Tamil Nadu.
1973
One man show in Bengaluru. (Also in `78 and `80).
1983
Workshop at National Institute of Design, Ahmedabad, Gujarat; State Lalit Kala Academy annual show. (Also in `95, `96, `97, `99 and 2001).
1986
National Worklshop at Bandh Nagar, U.P.
1988
National workshop at Pune.
1990-92
Workshop at Ministry of Agriculture, Government of India, New Delhi.
1995
Workshop organized by Ovium Nunkalai Kuzhu, Chennai at Ooty.
1996-97
Exhibited at Ovium Nunkalai Kuzhu, ennai.
1999
Small format exhibition, Cholamandal; International agro fest camp at Chennai.
2000
Cholamandal Annual show. (Also in 2002 and 2003).
2001
One man show at Cholamandal, Chennai.