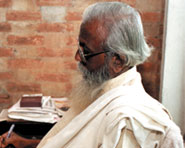 1928
Born in Kerala.1953 Diploma in Fine Arts, Government School of Arts and Crafts, Chennai.
1963-68
Secretary, Madras State Lalit Kala Academy.
1968
On the judges' panel for the National exhibition.
1968-72
Art Consultant for FEDO (FACT).
1969
Honorary Director, Kerala Institute of Arts; Designed Ambalamedu Township; Served as Chairman, Kerala Lalit Kala Academy; Participated in the All India exhibitions at Chennai, New Delhi and Mumbai. Collections in Dr. Sommerville collections UK, Asian Foundation, USA, FACT, Kerala and the Madras Christian College; has executed murals for various hotels in Kerala; Also designed many houses in Kerala and Chennai.
1994
Director of Kala Gramam, the artists' village in Mahe, Kerala.
2002
Awarded the Ravivarma Puraskar by the Government of Kerala.
2003
Conferred the Mathrubhumi award; Travelled in Europe extensively.