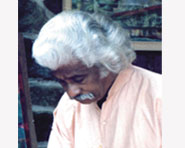 1937
Born in Quilon, Kerala.
1965
Award of Hyderabad Art Society and the Madras state Lalit Kala Academy.
1966
Diploma in painting, Government School of Arts and Crafts, Chennai;among the first set of artists who moved into Cholamandal.
1967
Award of the Academy of Fine Arts, Kolkata; traveling exhibition of art organized by the Cultural Affairs Foundation of India in Brussels,Amsterdam, Copenhagen, Vienna and Oslo.
1974
'Asia Today' exhibition in Milan, Italy; Asian Art Biennale, Dhaka;Kerala Lalit Kala Academy Award. (Also in `83 and `89).
1983
Group show organized by 'Mahindra & Mahindra Ltd.' At Jehangir Art Gallery, Mumbai.
1985
Represented India at the artists' camp at Asilah, Morocco.
1987
VIIIth Biennale International De Art, Valparaiso, Chile; South Zone Cultural Centre camp at Chennai.
1988
'Nature and Environment' exhibition in Prague, Czechoslovakia; awarded the senior fellowship of the Ministry of Human Resource Development,Government of India; South Zone Cultural centre camp at Kerala.
1989
National Award of the Lalit Kala Academy, New Delhi; All India artists camp by V.S.T Industries Ltd. and Centre for Cellular and Molecular Biology, Hyderabad.

1991
VIIth Triennale, India, International exhibition of art conducted by Lalit Kala Academy, New Delhi.
1999
Small format painting exhibition at Cholamandal.

2000
Small format Bronze Sculpture exhibition at Cholamandal.
2003
Passes away in Kerala.